Presents
Griffith's "Pebbles"
Sire: Shillelagh's "Popeye"
Dam: Shillelagh's "Cameo" (aka. "Dyke")
DOB: May 2005



"Pebbles"
Here are a couple of views of Pebbles just before she was transferred.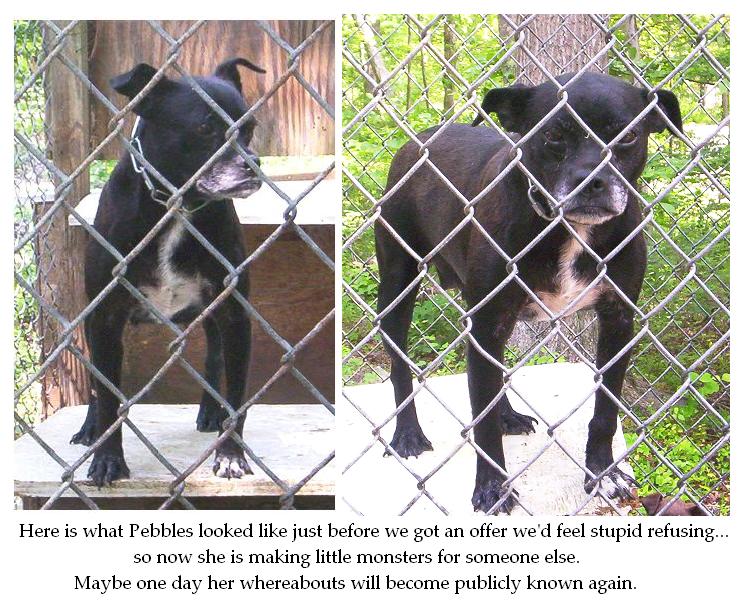 Achievements:
Ron of Shillelagh Kennels, found a local dog called "Popeye" that regularly killed 'coons as big or bigger than himself. He quickly arranged to get Popeye bred to his "Dyke" bitch, an accomplished coon hunter-killer herself. When the pups were whelped and we got two of them. Pebbles is the female. Not long ago we learned the Popeye dog was the product of a cross of some tight Gould and Nuttall bloodlines. These revelations came by way of Wayne Short (of Sooner Pride Kennel) who helped us sort out the pedigree. It seems Pebbles is pretty well bred after all which explains why she's such a pleasure to take hunting. There are many HOF dogs and other internationally known names in this pedigree. We bred and raised 4 litters from Pebbles and have seen some pretty good things come from it.

After raising one of her pups and viewing some photos of Pebbles' other spawn, a customer talked us into letting him purchase her with terms we'd feel like dummys to refuse. This means she is no longer under our control or influence. The buyer wants to remain anonymous so the availability of pups out of this good little brood-bitch is unknown for now.

Pedigree of " Griffith's "Pebbles" of Shillelagh"

Parents
GrandParents
GreatGrandParents
SIRE

Shillelagh's (Otto's) Popeye

Tingler's Dozer

Gould's Spartacus HOF
"Bess" (We think this might be Gould's Bess ?)

"Ellie Mae"
McCoy's British Knight
"Alfie" (bro't to the dog for stud service by ...unknown.)


DAM

Shillelagh's Cameo (aka. "Dyke")

Booth's / Fulford's Mileo HOF
Booth's Simon (Fogarty's Sam x Booth's Tonic HOF)
Booth's Tiny (Tipperary Tim HOF x Booth's Tonic HOF)
Newconb's Kiera
Wittnick's River (Booth's breeding.)

Wittnick's Ginger Marie (Mason's breeding.)