Recently updated on 12 February 2020.
Be sure to read this whole page.

If you're interested in a "Free-to-good-home" pup,
that's showing great potential this may be of interest.
The latest news is...

We do-not have pups available at this time!
Recent inquiries are advised to watch for email updates just for you.

Customers are often saying they want a pup with lots of "drive" or "assertiveness."
Folks, when they're available at all these are still little young puppies.
They don't have much "assertiveness" or any kind of "drive" to talk about yet.
Questions like that are a waste of time. All a little puppy cares about is getting fed and being loved-up.
They seem to like playing with empty pop-bottles and wiffle-balls too.
If you want a bully that picks on the others, please say so. (While not common, we do see that now and then.)

Puppies grow up to become what their breeding indicates, serious hunting dogs.

They often make very good pets but that'll be mostly up to YOU.

All pups from the Nemesis Breeding program are $500 (when they're available at all.)
Along with the pup you'll get 2 copies of a 4-Gen Pedigree/Bill-of-Sale and a 6-Gen Pedigree.
All will have our custom-made embossed seal over the breeder's signature making it impossible to forge,
(it's been an important detail now & then.)

All our pups are given appropriate shots and are wormed regularly.

(Please see our Registration Policy [
Click Here
] which can also be found on the
More Info
tab.)
Whenever we have pups available to the publik we ask a price that gives us some assurance that the pup or dog will get decent treatment. That's our primary concern. (Normally $500)
Attention! How the pups gets into your hands is Your Responsibility, Not Ours.
The customer (you) make all those arrangements. (Scroll down to see more about this.)
All costs and efforts associated with getting the pup into your hands are entirely YOUR responsibility and not included in the purchase price.
Some folks tell me that other breeders are charging closer to $1000 for pups.
I say, good for them!
Maybe they're better able to thin-out the annoying "riff-raff" by asking that steep price,

(the same reasoning I mention below.)

---
Remember, a particular color or look is-not what makes a Patterdale Terrier.
Be sure to examine our Colors & Markings page to get your mind right about looks and colors.
Be sure to understand that you can never tell what size a puppy will grow to.
Click here to see >>>
Pinga's page
. <<< a monster as Patterdales go but he sired Bosco, a normal size dog. His parents also produced Pixie, one of the smallest Patterdales we've ever had.
Our family of Patterdales seem to be getting steadily smaller but the finished size of a Patterdale Terrier is always a wait-and-see proposition.
We don't breed them for size. We don't breed them for the pet market. We don't breed for the show ring.

We breed our dogs for hunting/work. Whatever they get a-hold of is usually doomed and that's what we breed 'em for.

Folks, $500 is just barely enough to keep the "riff-raff" from bothering us. People generally take better care of dogs when they've paid a decent price for them.
Cheap dogs seem to get cheap care, a sad end for these special little dogs.

Remember: All costs and efforts associated with getting the pup into your hands are entirely YOUR responsibility and additional to the purchase price.

We don't get involved in air-shipping dogs.
Airlines, (ALL Of Them,) treat your dog like common luggage and that's why I don't use them any more.
If you're not able to come and get the pup we grudgingly recommend a dog hauler.

Every few months we get inquiries from folks in other countries. Sorry folks, we don't do that.

---

Remember, if you've just gotta have a Patterdale Terrier, be sure you have a place for it.
Having a place for it should-not mean a length of chain and a doghouse.
(If putting the puppy on a chain is your plan you'll do well to keep that a secret from Tim.)
If it's not gonna be a "house-dog" you'll need a safe place to keep it.
If you have doubts, take a look at the Alcatraz Kennels page for some good ideas.
Click here >>>
Alcatraz Kennels
for a look.
Please use this address for road-trip planning purposes, (MapQuest, etc.):
165 Camp Creek Parkway, Gordonsville, Va. 22942
That address is the local Lowe's Store which is about 30-minutes from our place.
There is also a Super Walmart and other stores on the other side of the street.
Both places have nice big parking lots.
There is also an IHOP restaurant and nice Best Western motel in close proximity, (all within sight.)
There are a number of Dog Haulers to choose from. To find one just type in the words Dog Transport Service and do an internet search.
There are many choices. You might find one you can tolerate.
Dog hauling requires a lot from the driver and puppies are more work and worry than grown dogs.
Most of these guys take much better care of the dogs [generally] than any airline.
Airlines, (ALL Of Them,) treat your dog like common luggage. That's why I don't use them any more.
The only real professional hound hauler that we've ever dealt with is...
Chuck Thomas (Redwing Hound Hauler) 509-680-2602
He's been hauling dogs for close to 30 years (over 15 yrs for us) and he covers the entire country.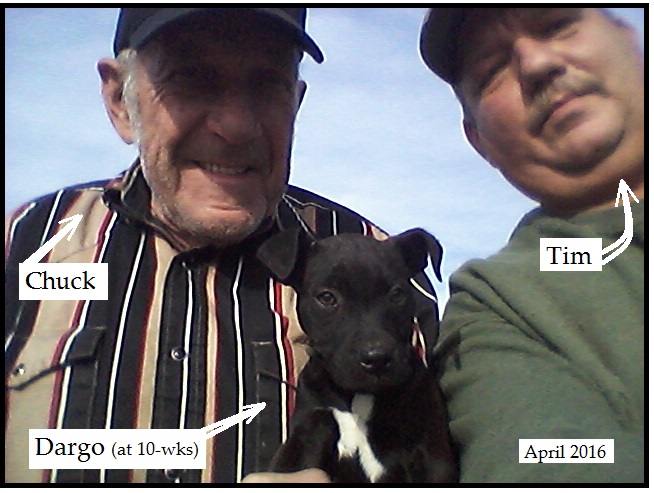 Chuck hauled this puppy to Wyoming for us. It's a nail-biting wait for the customer but the pup got lots of personal attention on the way.
We like this guy and think of him first for coast-to-coast hauling. It's much less costly than most other services. The one-and-only hitch in the plan is that it sometimes take's awhile for the dog to arrive. That's because it's not a door-to-door service. He drives a convoluted route and while he does try to get close to the dog's destination you must be prepared to go to some effort to meet him if you're any distance from the major highways He is constantly carrying many dogs (as many as 18 at once) that are mostly trail-hounds of one kind or another. It can take up to 3-weeks for him to get across the nation. (America is a big place)
His is the only service of that kind we can endorse.
I have a local friend that can SOMETIMES be talked into a delivering a pup right to your town or driveway.

He charges Two-Dollars a mile (reckoned one-way by Map Quest) from the address above to your zip code.

It's one of the best deals available these days for getting someone to bring the pup right to You.

A road trip calculation from your zip code to the address shown above will yield the delivery cost right to the dollar.
A little prior planning is needed. He has a life too, so he can't always come whenever YOU want him to.
If you want to get him to bring one of my pups straight to you, tell me and I'll put you in contact with him.
If you figure the zip code shown above to your zip code you'll have a good idea what it'll cost.

Also: We've just gotten a line on a dog-hauling guy who goes by "Pet Expedited" (336-947-2403, ask for Arthur.)
The guys in Erie Pa. say "he's the cheapest around." As an example they boasted he was moving a dog for them from
the northern 3rd of Florida to Erie Pa. for under $400! That's a little over 1000-miles one-way!
I don't know how the guy keeps gas in the tank at those rates but I thought it was worth a mention.

To
Contact Us
<<< Click there to see our contact information.
Please Do-Not email us asking if we have pups available. It'll just annoy us.

The answer to that question is always shown at the top of this page and kept current.