This is Shillelagh's (J&J's) Panama Red,
aka: "Pinky"
(Pinky's Adventures can be found at the bottom of the page.)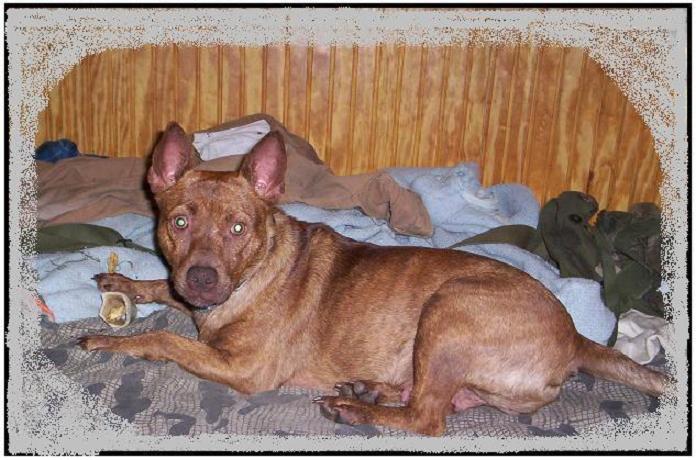 This cool little dog is the amalgamation of some pretty amazing breeding.
She's nearly 1/2 "Renterrier" blood and sired by one of J&J Kennels hi-powered stud dogs.
The story of how we came into possession of her defies reasoning and gives new meaning to the old saying,
"The Lord works in mysterious ways."
She was sired by J&Js Razor and whelped out of J&J's Locket. As some may know, Razor is an excellent representative of the Booth bloodlines. Locket was a double-grand-daughter of the amazing "Ike" dog that may be the best known dog from the famous breeding programs of Mr. Adrian Rentaria of southern California. Sadly, both Locket and Ike have expired.(R.I.P.) There weren't many dogs bred like this and there won't be any more.
A young Pinky showing a really cool brindled-chocolate/red coloration. This color scheme led to her name...call name, Pinky.
After a lot of arm-twisting, (and a shameful amount of whining,) Ron allowed me to move "Panama Red" (aka Pinky) to our facility along with some of her progeny that had been sired by Ron's great Pinga dog, (a dog bred here & shown below.)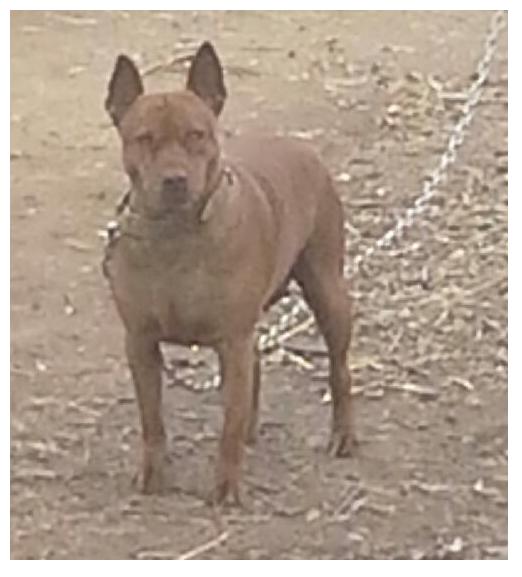 This is what Pinky looked like on 6 Jan. 2015. Obviously a little too well fed.

(Maybe the fact that she's often being a couch-potato in our house has something to do with how chubby she is.)

And this (just below) is how she looked in early April 2015.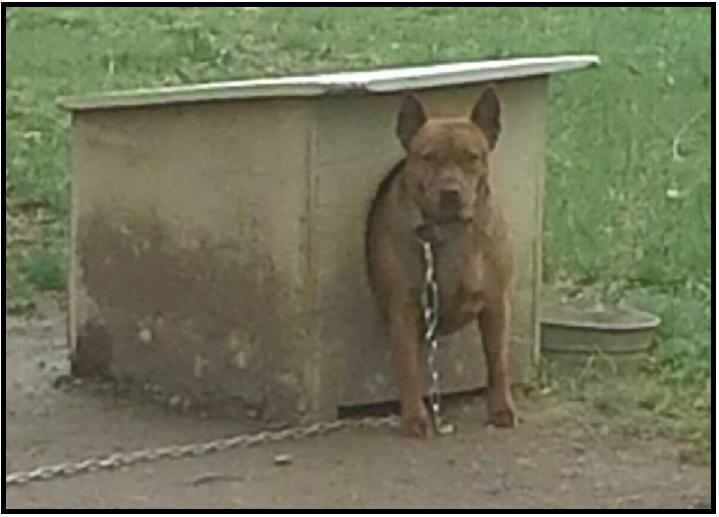 The opening to that dog-box is 12" in diameter.
Too well-fed but she's still certain death to anything she can get a-hold of.

We deeply appreciate the wisdom and foresight of J&J Kennels for producing this dog, Likewise for everyone involved in the story of how she came to be in our possession. She's become a corner-stone of our yard.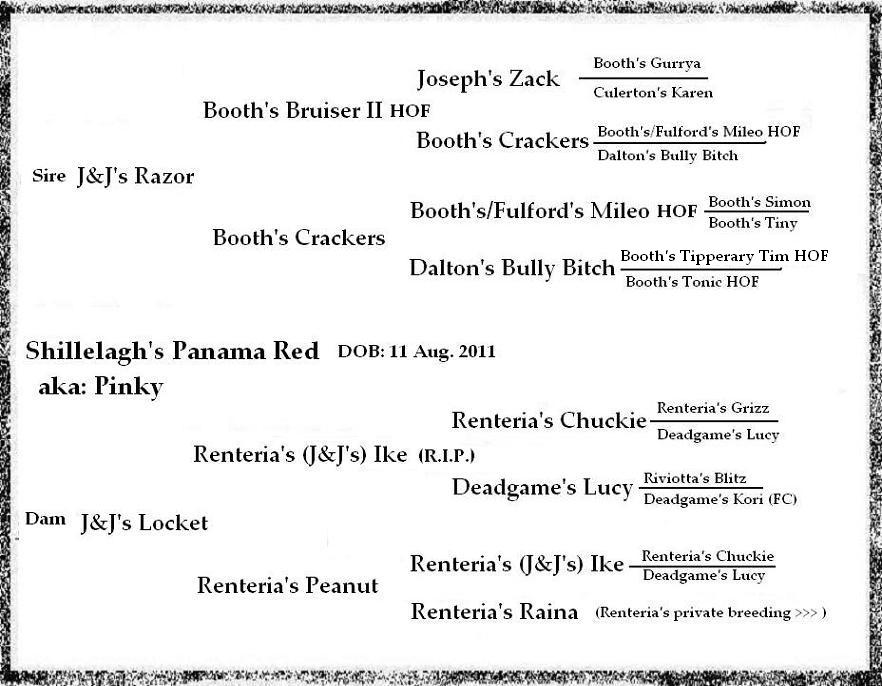 It is our belief that we can breed Pinky to nearly any strain or bloodline and get high-caliber Patterdale Terriers for whatever it is you have in mind. The only question about any pups is what color they'll be.
(Click here >>>
Colors & Markings
page for more details on that subject.)
The vigor and power of her progeny will not be in doubt, (as time has been demonstrating.)
We made one breeding (to Pinga) and the pups were spoken for within a couple of weeks of letting anyone know they existed. Now we're thinking of breeding her to our
Nemesis-Rooster
dog.
(If you have an interest in one of those you'd best speak up!)
We believe the progeny of this little girl will enhance any breeding program.
The pups shown below are NOT For Sale. (they're years old now) We're just showing 'em off.
Others can do the bragging as circumstances develop.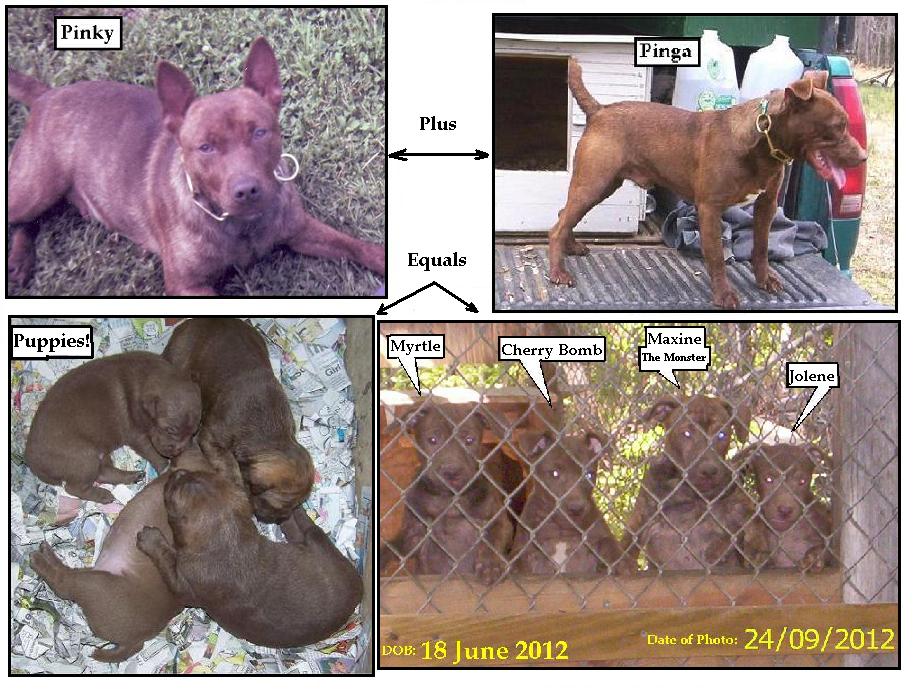 Pinky's sire is a black dog and her mother was a red dog. Both of Pinga's parents were black dogs. These facts don't help you predict what color the pups will be. They're not bred for color.
Have a look at our
Colors & Markings
page for more information about that subject.
Pinky has scenting ability that is fascinating. If it's a feint track that requires a nose-to-ground technique she can work it out. When there is enough scent to be carried on the wind she'll run it with her head up and quickly find the source. It has been established that scenting technique is a genetic trait.
Not many hunting dogs demonstrate both techniques.
She's a little too big for regular earthwork so we normally use her as a coon-killer for actions in attics, barns, hay-bales and crawl spaces. She's great for the lazy style of coon hunting too.
We think she will be much like Ron's old "Dyke" bitch, (see her page.) Pinky is not shy about going into tight quarters like holes or brush-piles if she thinks there's something in there.
The only issue is whether or not she'll have to dig in order to gain entry.
Click here to see Pinky's stories >>>
The Adventures of Pinky
Have a look at that page every now and then. Pinky's story might grow into a legend.
(Such a bold remark indicates how special we think she is.)
Watch for her offspring as they get into the hands of hunting terrier-men.