This page last updated on: 13 Sept. 2016

Clint & Company (still under construction so check regularly)
Caution! Persons who are too sissy to view real-life action/drama without becoming emotionally upset are advised to leave this page now.
This is the page of a Patterdale Pal we've made along the way.
Clint and his circle of friends & family got introduced to Patterdale terriers and were soon hooked.
His dog, (a pup named Dixie,) is from English stock that came to America without pedigree info, (not an uncommon occurrence.) Remember, it's not the pedigree that makes the dog, it's the dogs that make the pedigree!
Those imported dogs were proven hunters before they came over and their pups get down to business quickly when they're introduced to various types of vermin, (as we'll see.)
The photos below are a loose chronicle of how these dogs (those of Clint's circle of friends & family) get things done.
This photo (below) shows dogs owned by Clint's friend Paul. There is "Lily" on left and her sire, "Lad" [on the right] shortly after serving eviction notice on a trespassing groundhog (a type of marmot.) The groundhog became belligerent. The dogs insisted and a brief altercation ensued with predictable results. The groundhog soon became "hors de combat" as shown here.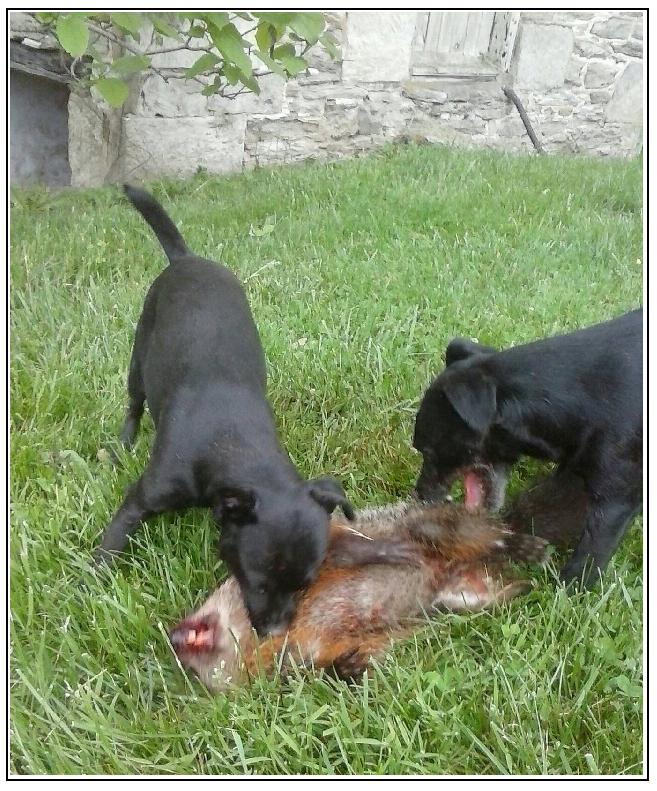 A close look at Lad (below) shows that groundhogs will offer a spirited argument no matter how wrong they are.
Lad is from England and we're all glad he made the trip!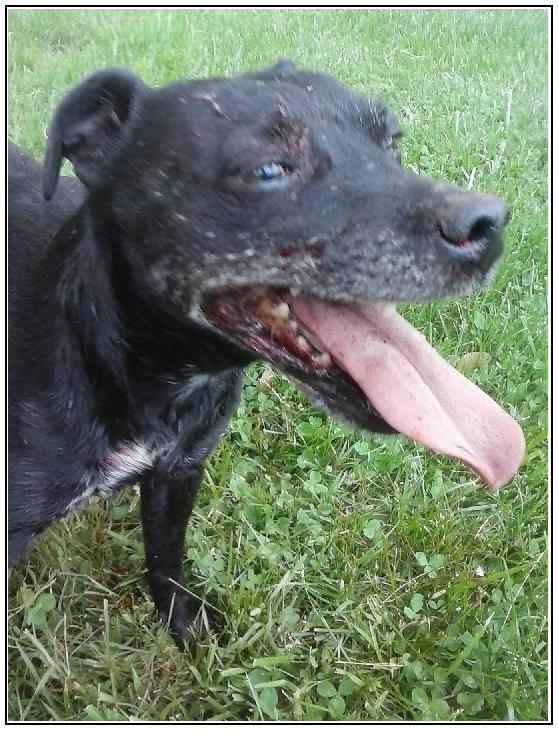 After Lily grew up a bit, she and Lad had a go on a Fox which was quite a project.
You can have a look at the whole story [and others] on the>>>
Reports from the Field
<<< page or
just go straight to it here >>>
Fox Adventure with Clint & Crew
<<<
Here's Clint's Dixie, (on the left) getting started hunting mice in the barn at 3-months age!
Then she soon got an introduction to the real work with her grampa...Lad (right photo.) Note how the sun plays tricks with her black coat.
A little while later she met her first Groundhog...grrrr!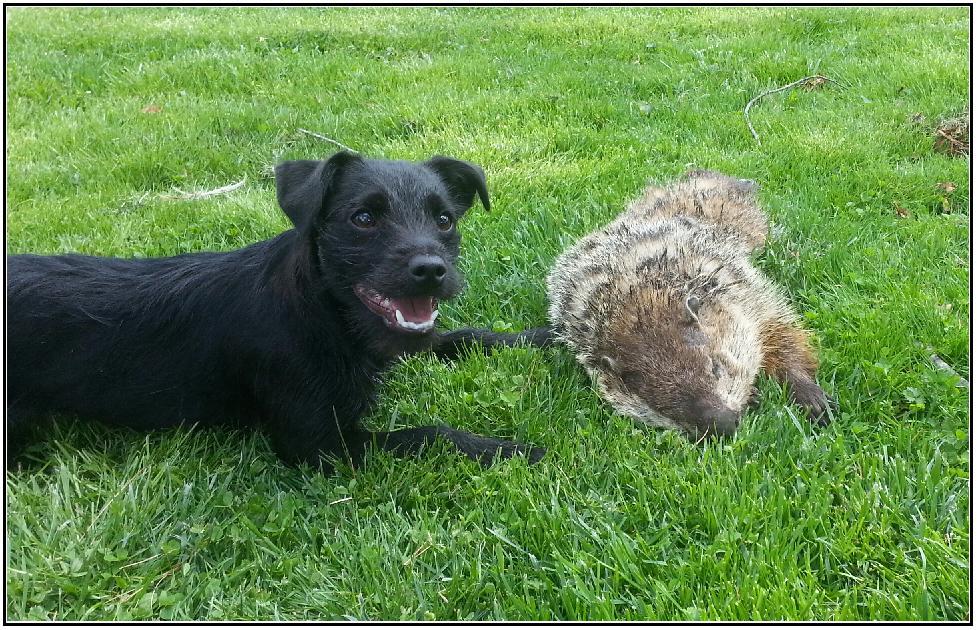 Dixie is still just a pup but we're prob'ly gonna hear more about her as she grows up.
Clint's circle of family and friends reaches all the way to the west coast.
On the left we see "Buddy" and on the right we see "Diva."
These two little dogs are living "a dog's life" in sunny California where being "cool" is a way of life for them.
We've heard that "Buddy" encountered a pair of raccoons raiding the bird feeder on the back porch. Those coons were accustomed to "punking" the local dogs but this time things were different...and the coons quickly sought other environs.
Atta boy Buddy! wink
Meanwhile, back at the ranch...
Dixie had another go-round with another groundhog.
We are learning that Dixie does NOT play well with Groundhogs!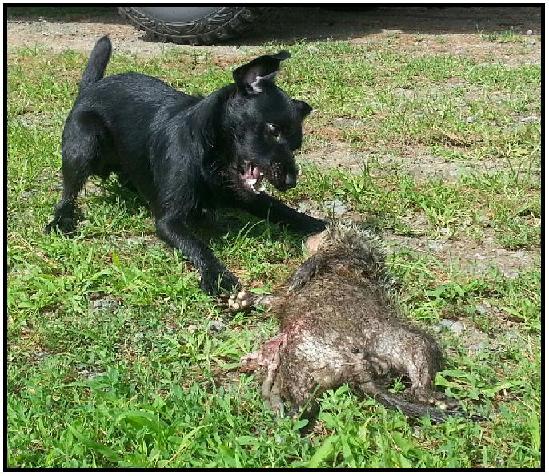 Check back regularly cause these guys and their dogs stay pretty busy.
Clint's brothers are getting into the spirit of having Patterdales and now this young dog, Bailey, is on the scene.
Bailey came from Top Notch, (mentioned elsewhere) and didn't waste time getting acquainted with Dixie. (see just below here)
And here is Bailey checking out a hole, (left) and taking interest in Dixie's latest/recent adventure getting started early, (as expected!)
For more details about this picture with the opossum click here >>>
Adventures with Dixie
And then, there's Grizz, (of the January 2015 Maxi-Bam litter.) We get a lot of folks asking how Grizz has turned out.
Some of you will remember Grizz from the puppy pen photos...now we have a recent photo of him for comparison.
One of Clint's brothers got Grizz so there's no point in bugging us any more about getting him.
(Now y'all know so, give it a rest!)
We think Grizz is turning into a handsome fellow and look forward to talking more about his development.
Recent events have us wondering if Grizz somehow found and ate a can of "Whup-Ass" the way the cartoon character Popeye did with cans of spinach. Whatever happened, it's working! We think there's gonna be lots to tell so,
we've started a page for him... click here >>>
Grizz!
<<<
These guys are pretty active so check back now and then for new developments.