Maxine d' Monster
(aka "Maxi")
photo here soon
Sire: Shillelagh's BuzzSaw, (aka
Pinga
,) Dam: Shillelagh's Panama Red, (aka
Pinky
)
Maxine is the inspiration for the "inner beast" logo-image of the Nemesis Patterdales.
Maxi is pretty big for a Patterdale, (~30 lbs!) but has never produced a pup as big as herself, (they're closer to +/-20lbs.) She's quite a Monster as Patterdales go, like her sire, Pinga was.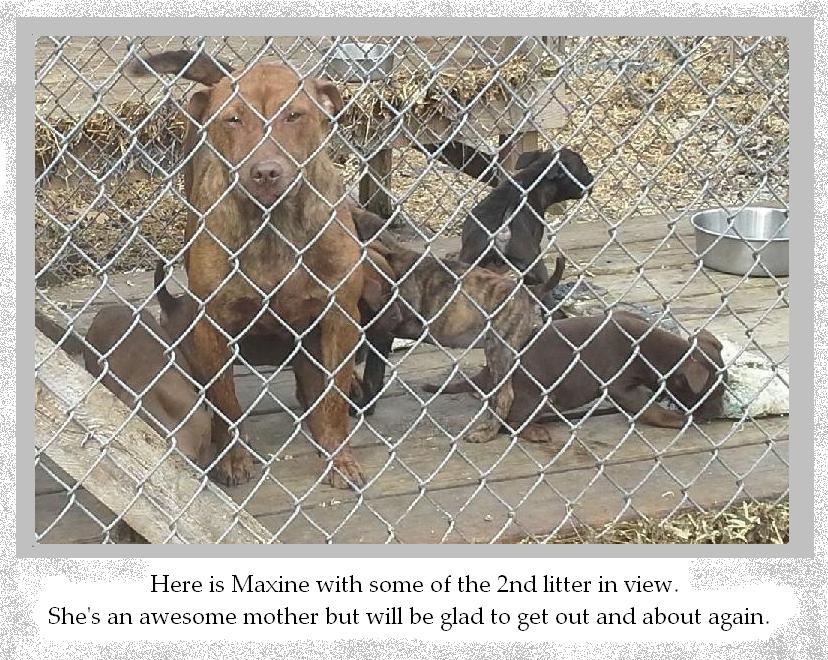 The pups in this picture were sired by our Bambam dog. We refer to the offspring as "those Maxi-Bam dogs."
and they've begun to make their mark in the world if the reports from the owners can be believed.
We seldom get as excited about a young dog as we are about this bundle of energy.
She exhibits the nose, intelligence and beautiful red-brindle colors of her dam, >>>
Pinky
.
She also shows much of the fire, athletic ability and amazing strength of her sire, >>>
Pinga
.
Even as a 5-yr dog her power and intensity are difficult to appreciate until witnessed.
In this respect she is very much like Pinga.
Also like both her parents, a stern voice is a harsher punishment than a heavy hand.
These dogs love their people.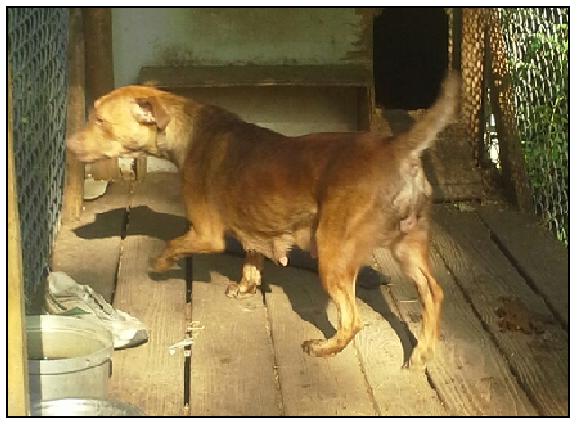 Here she is in July 2014, with lots of milk for the pups in the dog-box.
And this is who the milk was for...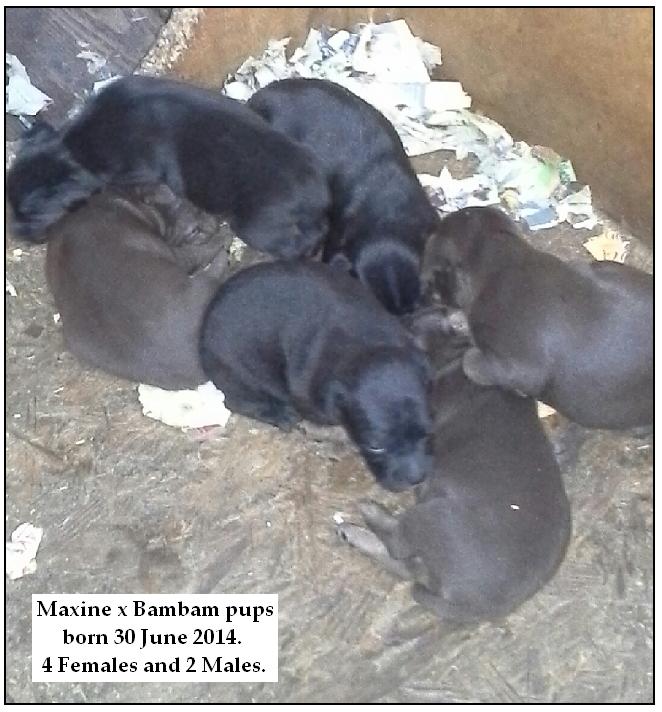 (A repeat breeding was whelped on 26 Jan 2015! Their owners all say they're hi-powered dogs.)
Just like her parents, Maxine is on the big end of the normal size range for Patterdales.
For those who prefer barn hunting or working debris piles or just walking the tractor trails at night for raccoons this size is about perfect.
She is already about the size of a large adult raccoon, (in Virginia.) When we got started on raccoons things looked very promising. We're wondering if we'll ever find a raccoon (or fox) that can offer her much of a challenge.
We get reports of her pups being pretty high powered. We sure like the ones we kept.
She's a very productive dog indeed and we're glad to have her in our kennels.
We're tempted to try her with other males but she really likes Bambam.
In summer of 2014 "Maxi" whelped a nice litter (shown above) Sired by Bambam.
All were smaller than Maxi. Some matured to under 16 lbs! The rest averaged 20 lbs.
We know teensy-weensy dogs are popular in America but we don't breed 'em for size.
We like dogs that can carry out the threat they present to the vermin!
Here are what some of them looked like at 9-months old,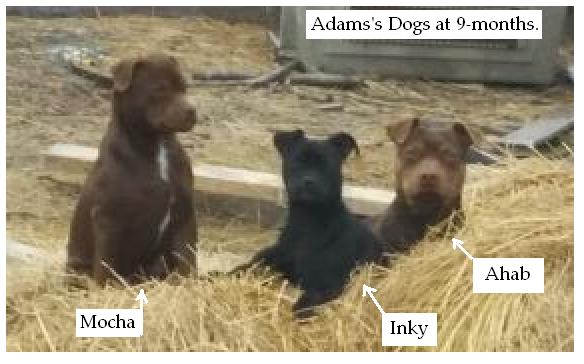 These [above] are from Maxine's 1st litter sired by BamBam. These dogs look big because of their build. However, they were all in the normal size range for Patterdales. Ahab barely made 20 lbs. Inky was under 16 lbs.
Those pups pleased their owners so much that we made a repeat breeding.
(The repeat breeding whelped on 26 Jan 2015 and was quickly disbursed!)
Maxi-Bam pups will be on the
Available Now
page now and then.
This is Maxine's pedigree