Shillelagh's Dyke.
The dog that made many things happen.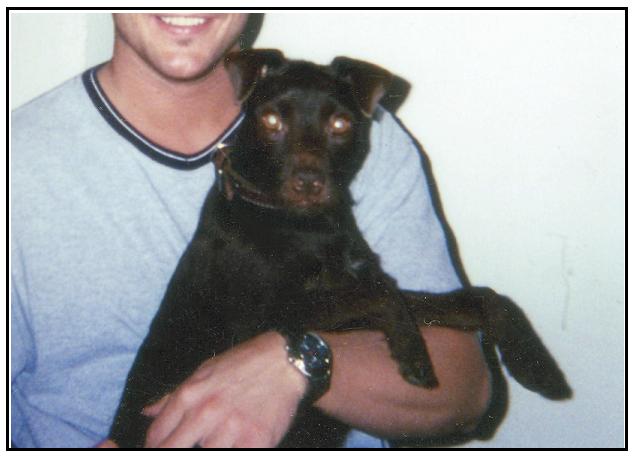 There are a few excellent dogs around the world that get plenty of admiration even if only a few people know about them. Dyke is one of them.
When Ron decided to get a Patterdale Terrier a search showed that there was a breeder in his home state of West Virginia.
He contacted Todd Fulford of Deadgame Kennels and arranged to get a young bitch-pup. Todd's kennels have produced some good dogs over the years. Dyke was no exception.
Ron soon had the young dog working on raccoons and used her as a "coon-dog" for years. Along the way he bred Dyke back to her sire, who at the time was a rising star on
the American Patterdale scene named Deadgame (Booth's) Mileo HOF.
A male pup from that litter, named Shillelagh's Tyrone was sent to Todd as the stud-fee for breeding to Mileo. That pup eventually went to Bo'Darc Kennels. This dog, became known as "Tye," and made his owner proud and pups sired by him were available for several years. (Check with Bo'Darc Kennels for more info.)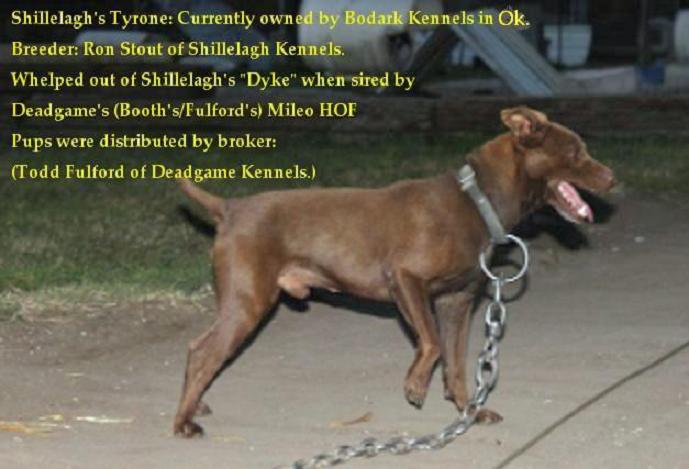 Ron had kept a big pup (about 20+ lbs) named Shillelagh's "Maurice" and was working him to be a coon dog. He had gotten his teeth into several good-sized coons and was showing good development by the time Todd convinced Ron to let him send the dog to Korea. Maurice became known as "Mo" (shown below) and has been making his new owner proud for years as a high-powered worker for hogs and badgers.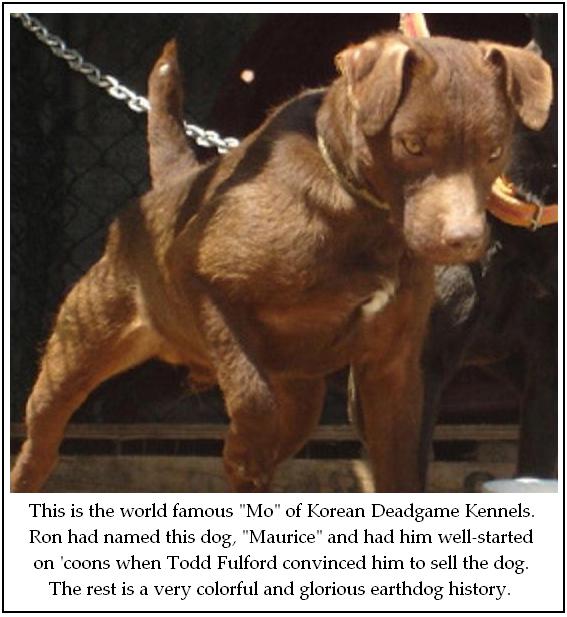 Open the
More To Know
page and then the
Reports from the field
page to find the
Adventures of Mo
,
(or just click on the bold-underlined texts for a quick peek.)
A little while later Ron found a little black package of dynamite named "Popeye."
He was the "kill-dog" for a group of coon hunters. Ron got acquainted and went hunting with this crowd and watched as the little black dog regularly killed coons with authority while the bigger dogs stood back and bayed the scene. Ron says he saw Popeye finish off coons bigger than he was and didn't seem to have much difficulty getting it done!
Ron obtained Popeye for breeding purposes and bugged those guys until they told him how the pedigree looked. We weren't familiar with the names we were seeing and it was years later that we learned some of the realities of Popeye's pedigree.
A search eventually put us in contact with Wayne Short of Sooner Pride Kennels and then Rodger McCoy, (both in Oklahoma,) and with their help we worked out the pedigree as best we could. Once the facts were known it wasn't so mysterious that Popeye was such a force to reckon with. Ron bred Popeye to Dyke one time and produced what became a bloodline that sprung from that one litter which produced:
Doc's Blackie, (a very fine squirrel dog in WV,) our own Pebbles and BamBam (exterminators of anything available, see the photo at the bottom of the Home Page,) and at least two other dogs that became personal pets that are not being used for any type of hunting, (proving that Patterdale Terriers can become excellent pets.)
Ron's dog "Pinga" is from Pebbles and Bambam which makes him a double grandson of Dyke and the Mileo dog..
"Pinga" (
see Pinga's page
) made a name for himself as time went by.
Ron readily says Pinga reminded him a lot of the "Mo" dog in Korea.
Dyke also has a respectable list of siblings such as GR. CH. Deadgame's Pitch Black (aka Riddick,)
Ch. Fulford´s Choco Lady, Ch. Fulford's/Rowe's Nala
and Fulford's/Robert's/French Creek's Stitch, to name a few.
We think of Dyke as one of the corner-stones of the breeding program that produces
Patterdale Terriers of the Nemesis class.
We thought we'd make it clear where it all started for us.
For a look at her pedigree just look at the pages for Pebbles, BamBam, Pinga or Pixie.
Dyke is featured prominently in all theirs and a growing list of pedigrees.